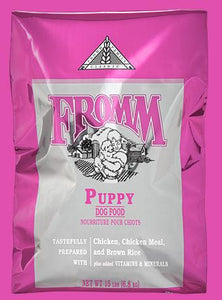 For growing puppies. Tastefully prepared with chicken, brown rice, and eggs.
Ingredients
Chicken, Chicken Meal, Pearled Barley, Oatmeal, Menhaden Fish Meal, Brown Rice, White Rice, Beet Pulp, Chicken Fat, Dried Egg Product, Salmon Oil, Flaxseed, Cheese, Brewers Dried Yeast, Chicken Liver, Monocalcium Phosphate, Salt, Potassium Chloride, Vitamins, DL-Methionine, Chicory Root Extract, Minerals, Chicken Cartilage, Yucca Schidigera Extract, Sodium Selenite, L-Tryptophan, Taurine, Probiotics.
Guaranteed Analysis
GENERAL

 
As-Is Basis (%)
Dry Matter Basis (%)
Moisture
8.00
 
Dry Matter
92.00
 
Protein
28.88
31.39
Fat
14.93
16.23
Fiber
3.55
3.86
Ash
6.66
7.24
Phosphorus
1.10
1.20
Potassium
0.61
0.66
Magnesium
0.14
0.15
Calcium
1.6
1.74
Sodium
0.29
0.32
 
As-Is Basis (mg/kg)
Dry Matter Basis (mg/kg)
Iron
210.26
228.54
Manganese
74.13
80.58
Copper
13.14
14.28
Zinc
201.49
219.01
3,572kcal/kg
1620

 

kcal/lb
400 kcal/cup
Fromm Family Classic Puppy Dog Food is formulated to meet the nutritional levels established by the AAFCO Dog Food Nutrient Profiles for gestation/lactation and growth, including growth of large size dogs (70 lb. or more as an adult).
Feeding Instructions
6 TO 11 WEEKS OF AGE

Expected Mature Weight
Cups of Food per Day*
Grams of Food per Day
3 lbs
1.36 kg
1/8 - 1/4*
14 - 28g
5 lbs
2.27 kg
1/3 - 3/8
37 - 42g
15 lbs
6.81 kg
3/4 - 1
84 - 112g
40 lbs
18.15 kg
1 1/2 - 2
168 - 224g
70 lbs
31.76 kg
2 2/3 - 3
299 - 336g
100 lbs
31.76 kg
3 - 4
336 - 448g
100+ lbs
45.37+ kg
Add 1/3 cup (37g) of food per each 10 lbs of bodyweight over 100 lbs
3 TO 4 MONTHS OF AGE

Expected Mature Weight
Cups of Food per Day*
Grams of Food per Day
3 lbs
1.36 kg
1/4 - 1/3
28 - 37g
5 lbs
2.27 kg
3/8 - 1/2
42 - 56g
15 lbs
6.81 kg
1 - 1 1/3
112 - 149g
40 lbs
18.15 kg
2 1/8 - 2 3/4
238 - 308g
70 lbs
31.76 kg
3 - 3 3/4
336 - 420g
100 lbs
31.76 kg
3 2/3 - 4 3/4
411 - 532g
100+ lbs
45.37+ kg
Add 1/3 cup (37g) of food per each 10 lbs of bodyweight over 100 lbs
5 TO 7 MONTHS OF AGE

Expected Mature Weight
Cups of Food per Day*
Grams of Food per Day
3 lbs
1.36 kg
1/3 - 3/8
37 - 42g
5 lbs
2.27 kg
1/2 - 2/3
56 - 75g
15 lbs
6.81 kg
1 1/8 - 1 1/2
126 - 168g
40 lbs
18.15 kg
2 2/3 - 3
299 - 336g
70 lbs
31.76 kg
3 1/4 - 4 1/4
364 - 476g
100 lbs
31.76 kg
4 1/4 - 5 1/2
476 - 616g
100+ lbs
45.37+ kg
Add 1/3 cup (37g) of food per each 10 lbs of bodyweight over 100 lbs
8 TO 12 MONTHS OF AGE

Expected Mature Weight
Cups of Food per Day*
Grams of Food per Day
3 lbs
1.36 kg
Transition to Adult food
Transition to Adult food
5 lbs
2.27 kg
Transition to Adult food
Transition to Adult food
15 lbs
6.81 kg
1 - 1 1/3
112 - 149g
40 lbs
18.15 kg
2 1/4 - 3
252 - 336g
70 lbs
31.76 kg
3 2/3 - 4 2/3
411 - 523g
100 lbs
31.76 kg
4 3/4 - 6
532 - 672g
100+ lbs
45.37+ kg
Add 1/3 cup (37g) of food per each 10 lbs of bodyweight over 100 lbs
13 TO 18 MONTHS OF AGE

Expected Mature Weight
Cups of Food per Day*
Grams of Food per Day
3 lbs
1.36 kg
Transition to Adult food
Transition to Adult food
5 lbs
2.27 kg
Transition to Adult food
Transition to Adult food
15 lbs
6.81 kg
Transition to Adult food
Transition to Adult food
40 lbs
18.15 kg
Transition to Adult food
Transition to Adult food
70 lbs
31.76 kg
3 1/2 - 4 1/2
392 - 504g
100 lbs
31.76 kg
4 2/3 - 5 3/4
523 - 644g
100+ lbs
45.37+ kg
Add 1/3 cup (37g) of food per each 10 lbs of bodyweight over 100 lbs
19 TO 24 MONTHS OF AGE

Expected Mature Weight
Cups of Food per Day*
Grams of Food per Day
3 lbs
1.36 kg
Transition to Adult food
Transition to Adult food
5 lbs
2.27 kg
Transition to Adult food
Transition to Adult food
15 lbs
6.81 kg
Transition to Adult food
Transition to Adult food
40 lbs
18.15 kg
Transition to Adult food
Transition to Adult food
70 lbs
31.76 kg
3 - 4
336 - 448g
100 lbs
31.76 kg
4 1/2 - 5 1/2
504 - 616g
100+ lbs
45.37+ kg
Add 1/3 cup (37g) of food per each 10 lbs of bodyweight over 100 lbs
* Standard 8 fluid-ounce measuring cup