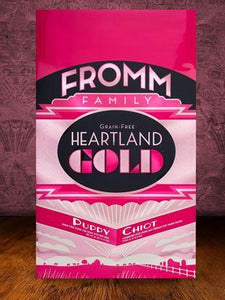 A grain-free red meat recipe for puppies and pregnant or nursing mothers. Naturally formulated with beef, pork, and lamb.  Enhanced with probiotics to aid digestion.
Ingredients
Beef, Pork Meat Meal, Peas, Lentils, Chickpeas, Potatoes, Dried Whole Egg, Dried Tomato Pomace, Pork Fat, Salmon Oil, Pork Liver, Flaxseed, Pea Flour, Cheese, Lamb, Brewers Dried Yeast, Alfalfa Meal, Potassium Chloride, Carrots, Lettuce, Celery, Salt, DL-Methionine, L-Tryptophan, Taurine, Chicory Root Extract, Yucca Schidigera Extract, Sodium Selenite, Sorbic Acid (Preservative), Vitamins, Minerals, Probiotics.
Guaranteed Analysis
Crude Protein 27% MIN
Crude Fat 18% MIN
Crude Fiber 6.0% MAX
Moisture 10% MAX
Omega 3 Fatty Acids 0.6% MIN
Omega 6 Fatty Acids 2.6% MIN
Caloric Content
3,993kcal/kg
1,815kcal/lb
419kcal/cup
Fromm Family Heartland Gold® Puppy Food for Dogs is formulated to meet the nutritional levels established by the AAFCO Dog Food Nutrient Profiles for gestation/lactation and growth, including growth of large size dogs (70 lb. or more as an adult).
Feeding Instructions
6 to 11 weeks of age

Weight of Puppy
Weight of Puppy
Cups of Food per Day*
Grams of Food per Day
2 lbs
0.9 kg
2/3
69
5 lbs
2.3 kg
1
105
10 lbs
4.5 kg
1 1/2
158
15 lbs
6.8 kg
2 1/8
223
20 lbs
9.1 kg
2 2/3
279
3 to 4 months of age

Weight of Puppy
Weight of Puppy
Cups of Food per Day*
Grams of Food per Day
2 lbs
0.9 kg
5/8
66
5 lbs
2.3 kg
1
105
10 lbs
4.5 kg
1 3/8
144
15 lbs
6.8 kg
1 7/8
197
20 lbs
9.1 kg
2 3/8
249
25 lbs
11.3 kg
2 7/8
302
30 lbs
13.6 kg
3 1/3
350
5 to 7 months of age

Weight of Puppy
Weight of Puppy
Cups of Food per Day*
Grams of Food per Day
2 lbs
0.9 kg
5/8
66
5 lbs
2.3 kg
3/4
79
10 lbs
4.5 kg
1 1/8
118
15 lbs
6.8 kg
1 1/2
158
20 lbs
9.1 kg
1 7/8
197
25 lbs
11.3 kg
2 3/8
249
30 lbs
13.6 kg
2 2/3
279
35 lbs
15.9 kg
3 1/8
328
40 lbs
18.2 kg
3 1/2
368
8 to 12 months of age

Weight of Puppy
Weight of Puppy
Cups of Food per Day*
Grams of Food per Day
2 lbs
0.9 kg
1/2
53
5 lbs
2.3 kg
5/8
65
10 lbs
4.5 kg
1
105
15 lbs
6.8 kg
1 ¼
131
20 lbs
9.1 kg
1 ½
158
25 lbs
11.3 kg
1 7/8
197
30 lbs
13.6 kg
2 1/8
223
35 lbs
15.9 kg
2 ½
263
40 lbs
18.2 kg
2 ¾
289
45 lbs
20.4 kg
3
315
50 lbs
22.7 kg
3 3/8
354
* Standard 8 fluid-ounce measuring cup