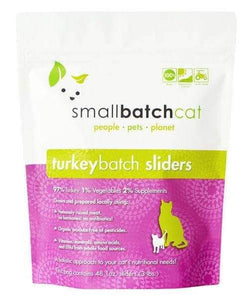 Single-source protein, complete raw diets for cats featuring 97-98% meat, organ and bone.
Ingredients
97% humanely raised and harvested turkey, 1% organic produce, 2% natural supplements
turkey, turkey necks, turkey backs, turkey livers, turkey hearts, turkey gizzards, salmon oil, organic dandelion greens, organic apple cider vinegar, organic kelp*, organic bee pollen, organic barley grass, organic cranberries
*OUR ORGANIC KELP IS SOURCED FROM THE PRISTINE WATERS OF ICELAND AND IS THE ONLY INGREDIENT THAT COMES FROM OUTSIDE THE USA.
Guaranteed Analysis

Moisture (max): 71.6%
Crude Protein (min): 16.4%
Crude Fat (min): 7.7%
Crude Fiber (max): 0.3%
Ash (max): 2.5%
Calcium (min): 0.3%
Phosphorus (min): 0.3%
Approx. 37 kcal per slider  |  Cat sliders contain 48, 1oz. sliders (3 lbs.)

Feeding Guideline
5 lbs:  2 Sliders per day
10 lbs:  4 Sliders per day
15 lbs:  6 Sliders per day
20 lbs:  8 Sliders per day
For nursing or pregnant cats and kittens, quantities per day can be doubled.  Please note that you should always consult your veterinarian especially when it comes to mommas-to-be or nursing cats. These are only guidelines and may need to be adjusted depending on your individual cat's needs.