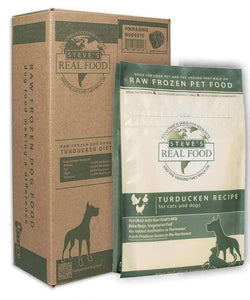 Pet owners love the Steve's Real Food Turducken Diet for its high protein and low-fat content.  The mix of turkey, duck, and chicken provide a highly palatable diet that has wide-ranging nutritional benefits.
This mixed protein diet uses the optimal meat and organs from each animal to ensure complete nutrition.
Ingredients

Ground Turkey, Turkey Liver, Turkey Heart, Ground Chicken, Broccoli, Ground Duck, Chicken Liver, Apples, Romaine Lettuce, Celery, Goat's Milk, Sesame Seed, Chia Seed, Coconut Oil, Green Lipped Mussel, Taurine, Salmon Oil, Flaxseed, Dried Kelp, Inulin, Ground Eggshell

Guaranteed Analysis
Protein: 13.75%
Fat: 8.02%
Fiber: 0.1%
Moisture: 74.0%
Calories: 1482 per kg (42 per oz)
Calcium to Phosphate: 1.5:1
B.A.R.F Formulation
80% Meat/Organ/Bone 20% Produce
Carbohydrates: 1.7%
PH Level: 6.4 S.U.

Feeding Guideline
If you have never fed raw before, you may be surprised as you watch your dog's health improve while they transition to a healthier diet. It's important to be aware of how much you should be feeding your pet. When you feed your pet a raw food diet, they will often require less food than if you were to feed them a kibble/grain-based diet, because the food has so much more nutritional value. There are a few factors that will affect the recommended amount to feed your pet, such as age, activity level, and weight goals. We use the bodyweight percentage rule, which estimates feeding amounts based on the weight of your pet. For example, if you have a 50-pound adult Australian Shepherd, then you would want to feed them 2.5% of their body weight, which is 1.25 lb (daily).
50lbs x 2.5% = 1.25 lbs
Body Weight Percentage Recommendation:  We suggest that you feed your pet the following percentages based on their activity and weight goals.
| | | |
| --- | --- | --- |
| Pet's Activity/Life Stage | Percent of Body Weight to Feed | Oz to Feed for Every 10lbs of Body Weight |
| Overweight | 1.5% | 2.4 |
| Average Activity | 2.0% | 3.2 |
| Above Average Activity | 2.5% | 4 |
| Weight Gain Goal | 3.0% | 4.8 |
| Highly Active | 3.5% | 5.6 |
| Kittens, Puppies, or Pregnant | 4%+ | 6.4 |